INSPECTION FIXTURES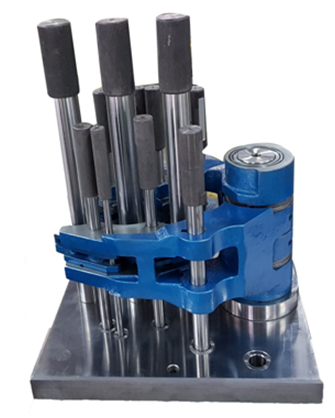 Features & Benefits
Eliminate defects, improve and maintain your productivity by ensuring Mould & Neck Ring equipment is checked at regular intervals. Vary cost effective
Mould Holder and Inserts Inspection Fixtures
Early identification of Mould Holders & Inserts problems.
Eliminate defects such as heavy seems or cross joints.
Check inserts wear, bore diameter, misalignment & Mould arm height etc.
Neck Ring Arm Checking Fixtures
Check for bore wear, the groove width distortion, foot flatness & centre error.
Simple to use & very cost effective
Baffle Arm, Blow Head Arm and Funnel Arm inspection fixtures to check main co-ordinates holes position and alignment for trouble free performance on the I.S. Machine.
Plunger alignment fixtures.
We can design and develop any type of inspection fixtures as per customer specification for any type of I.S. Machine.
Nirmal Glasstech Industries-Jaipur-India